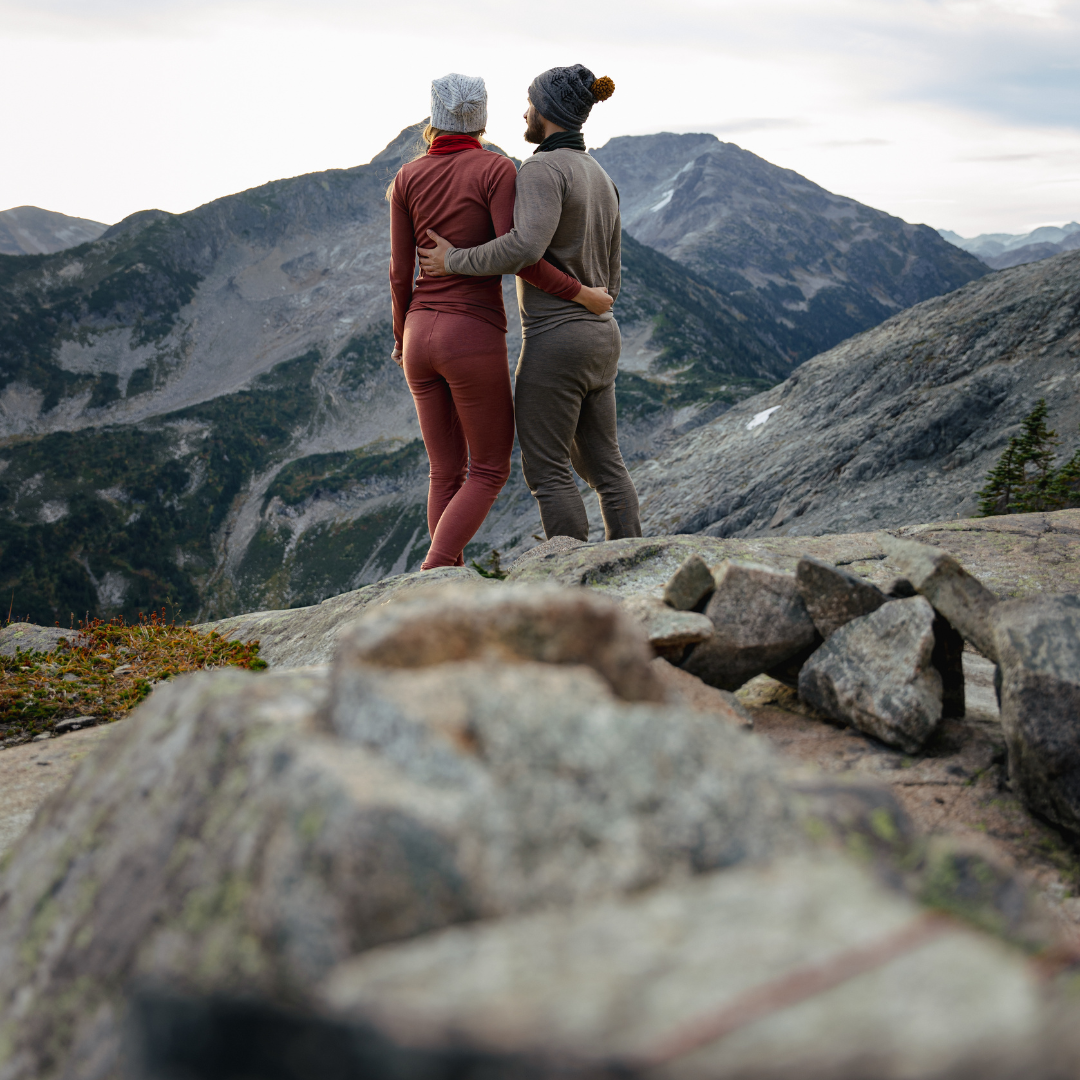 Why Mountain Lovers Love Merino
A sit-down with Petra and Jan from @WanderinginTwo
The serenity of Canada's Rocky Mountains attract outdoor enthusiasts from around the world, yet few get to bask in their beauty on a weekly basis. Meet Petra and Jan. A Slovakian couple who've recently relocated to Vancouver from Europe full-time, have amassed a die-hard following on Instagram, and call themselves "weekend warriors". 
Their instagram page @wanderingintwo has tapped into an athletic culture that thrives on Canada's West Coast, a lifestyle where you work hard 9-5pm and then take to nature on the weekends. But Petra and Jan are doing it a little differently. It's not a leisurely meander through the Pacific Rainforest. They're going high and going hard on their weekend adventures, capturing incredible footage of the Rockies and camping out at altitude. Their weekend hikes require a high-level of athleticism and the right gear. 
When they wrote asking to collaborate, we were so excited…yet…Warmth and Weather has never really done this thing before. We always want affiliates, but we mostly collaborate with schools and non-profit groups. We needed to know more about this adventurous duo, and why they felt organic merino wool base layers are best for weekend treks. As we learned, we knew you'd want to get to know them, too. 
So, we asked a couple questions:
W&W: Where did you grow up and how did it prepare you for your challenging weekend treks in Canada's Rocky Mountains? Have you always loved being in the mountains? 
Petra/ Jan: We grew up in Slovakia, a small but mountainous country nestled in the heart of Europe. Jan's love for mountains was ingrained from an early age, while I (Petra) initially leaned more toward beaches and cities. However, once Jan showed me how mountains can make us feel small yet humble ultimately won me over, and we've been exploring mountain ranges together ever since. Our journey has taken us to trails in Morocco, Mallorca, Slovakia, Italy, Jordan, and even Hawaii, where we've discovered the incredible diversity of mountain landscapes worldwide.
W&W: Could you describe a few differences in "mountain culture" between the Rockies vs the Alps? What makes a "weekend warrior"?
Petra/ Jan: Comparing Mountain cultures between the mountains in British Columbia and the High Tatras, one striking distinction lies in the lushness of the Pacific Northwest's coastal mountains, a characteristic unique to this region. In contrast, Slovakia's High Tatras tend to be drier. Additionally, the culture in North American mountains often carries a wild west allure, shaped by less historical occupation compared to European counterparts. While European trails frequently feature mountain huts selling provisions and draft beer, the North American mountains retain a wild and serene atmosphere. We both work full time office jobs 9-5, which gives us no choice but to explore the world around us during weekends. It can be physically very exhausting but on the other hand these adventures give us mental energy which keeps our souls happy and relaxed. 
W&W: What makes Merino wool base layers your choice for trekking? Why does Merino wool perform so well for you? How does "airing" compliment adventure?
Petra/ Jan: Merino wool base layers have become our top choice for trekking due to their exceptional functionality. We stumbled upon Merino wool a few years back and were pleasantly surprised by its versatility. It effectively keeps us cool during hot summer hikes and warm during colder winter treks, even when we're sweating. What's more, the fact that we can wear the same Merino wool shirt for several days of hiking is a game-changer, helping us save valuable space in our backpacks.
W&W: How important is it to you that our merino wool clothing is ethically-made and biodegradable?
Petra/ Jan: The ethical and environmental considerations surrounding clothing production are paramount to us. With the fast fashion industry's negative impact, it's crucial to us that our clothing is ethically made and biodegradable, aligning with our commitment to responsible choices in all aspects of our outdoor pursuits. 
W&W: You've garnered a lot of followers on Instagram creating beautiful "mountain culture" content — what is the dream for the "Wandering in Two" story moving forward?
Petra/ Jan: Our Instagram account isn't about chasing influencer status or becoming full-time "Instagrammers." Our mission is simple: we love hiking, capturing the beauty of nature through photos and videos, and sharing it with others to inspire outdoor adventures.  We're all about authenticity, not aiming for fame or financial gain, but rather encouraging people to spend more time outside and sleep under the stars. Moreover, with us being weekend warriors, we would love to showcase to the world that one does not have to be necessarily a full time content creator to be travelling or exploring the great outdoors.
We couldn't agree more. Welcome to the Warmth and Weather Family, Petra and Jan.
Petra wears matching Engel Organic Merino Wool / Silk Base Layers in Copper. 
Jan wears matching Engel Organic Merino Wool / Silk Base Layers in Walnut.