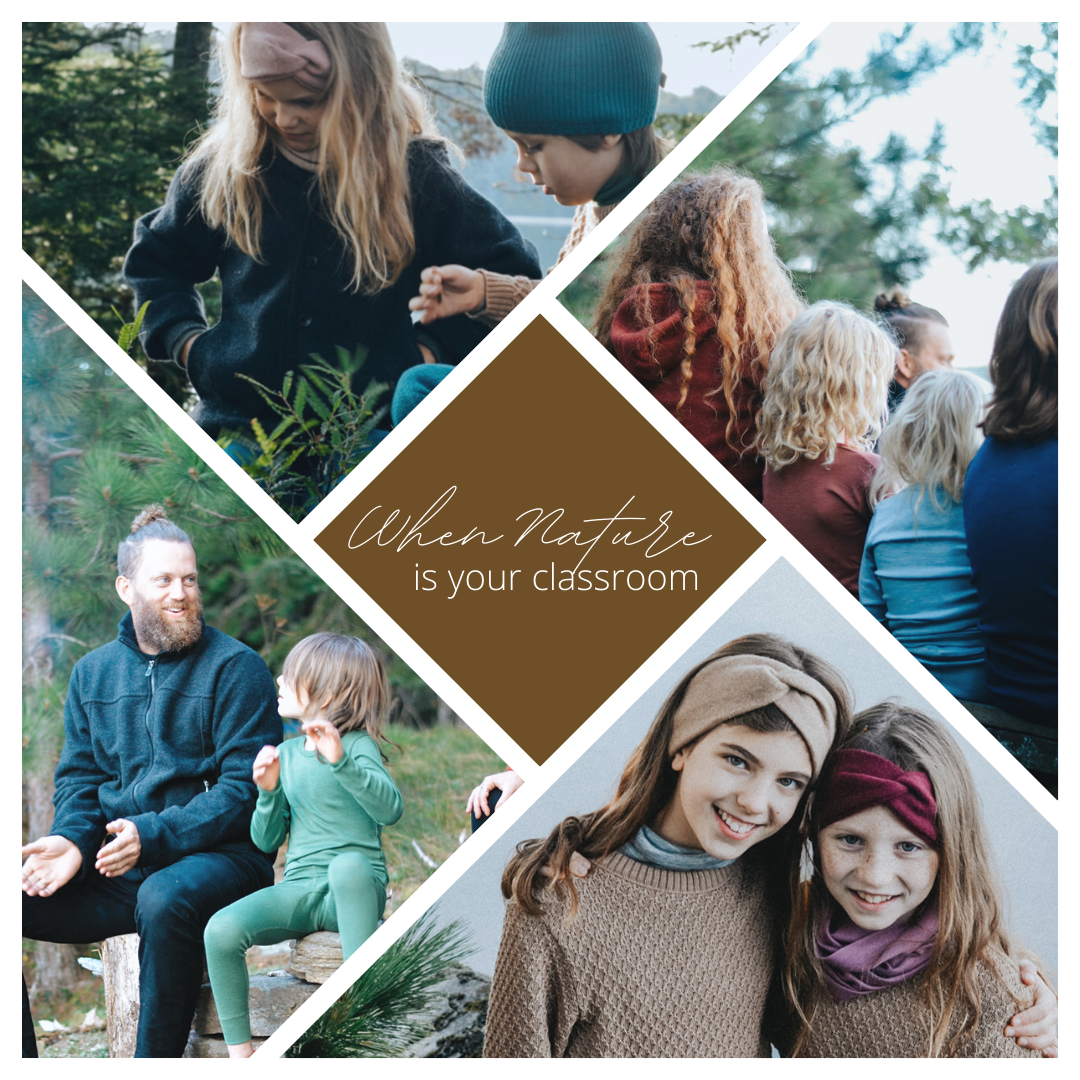 When Nature is your classroom, Back to School looks a little different. 
The last few years have proved a renaissance for the homeschool movement. For many, homeschool has been an opportunity to step outside the usual 9-5 rhythm, say goodbye to the hustle and bustle, and claim the rhythm of the family as an unique and worthy investment. 
Whether it's a curriculum based on Waldorf Homeschooling, Charlotte Mason, Simplicity Parenting, Unschooling, or the 1000 Hours Outside movement, one thing is for sure: the homeschool family is an Adventure Family that is embracing September in a different way.
There is a natural in-breath to the Autumnal season. A gathering of what was and a preparation for the long winter ahead. Nature whispers in mist and dew on chilly mornings, surprises and delights at its peak with hot days, and tucks us into Autumn with cool, frosty nights. Organic merino wool and wool / silk base layers provide protection from Fall's crisp hello, and are made more durable and rugged when layered with thick leggings or boiled wool overalls. 
September is spent outdoors, making the most of the last sweet days of summer. 
Mother Nature is our greatest teacher, and children naturally speak her language. Whether it's collecting rocks on the shoreline, learning to float gently in lake waters, harnessing the power of fire, or listening to stories as the stars appear overhead, there is a magic to the outdoor classroom that is made better when the family is kept warm.
There is not one right way to homeschool, just like there isn't one right way to parent. Greeting the autumnal season with reverence and joy is akin to bringing a little bottle of sunshine with us into the long winter months, creating memories we can return to over and over, and growing skills that can be carried from year to year. 
We were grateful to collaborate with several homeschool families to create a special look book of our Fall 2023 Collection. Stay tuned for more beautiful offerings showcasing our 100% organic merino wool and wool/silk products made proudly by Disana, Engel, Hocosa, Pickapooh, Reiff and Hirsch Natur. Ethically made and shipped direct to you from our warehouse in Thunder Bay, Ontario.